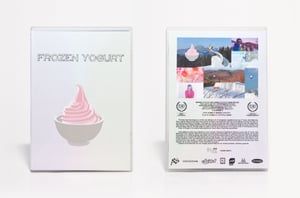 $

24.99
The tasty treat that brings you a whole new delicious mix of homegrown ingredients such as JF Houle, Alex Bellemare,
Dom Laporte, Marty B and many more natural nsf flavors, sprinkled with rail chips and a trifecta of ice from the alps, bc
and the sport's birthland of Quebec. It will leave you chill as a sunset view after a day of hucking. For their 5th experiment,
New School Films created something they will enjoy watching years from now. something honest and pure, just like in the
good old days. After all, the best reason to watch a ski film is to remind you not to worry, winter is coming back shortly.
Enjoy & indulge in our passionnate experience. Good vibes & freshness guaranteed.
Cette gâterie sucrée vous présente un tout nouveau mélange d'ingrédients délicieux locaux tels JF Houle, Alex
Bellemare, Dom Laporte, Marty B et plusieurs autres saveurs naturelles nsf, assaisonnées de brisures de rampes
d'escaliers et un triplé de glaces des Alpes, de la Colombie-Britannique et de la terre promise. Elle vous laissera
aussi frais qu'un coucher de soleil après une journée de parc. Pour leur cinquième expérience, New School Films
voulait produire un film qui amènerait autant de plaisir à filmer que de regarder quelque chose d'honnête et pure,
comme le bon vieux temps. La raison pour laquelle nous regardons des films de ski après tout est bien pour nous
rappeler de ne pas s'inquieter, l'hiver reviendra sous peu.
Laissez-vous emporter par nos images passionnées et nos ondes positives, fraicheur garantie.
BONUS CONTENT INCLUDES/CONTENUE BONI INCLUE:
EXCLUSIVE NSF 2011 B-FOOTAGE MONTAGE
HUGO PELLETIER'S BONUS & TREMBLANT EDIT
MARTY B. BRECKENRIDGE SELF EDIT
SEB CHARTRAND'S SPECIAL AVILA EDIT
& G DONNÉ 4!
OVER 75 MIN OF BONUS CONTENT!
PLUS DE 75 MIN DE CONTENUE BONI!